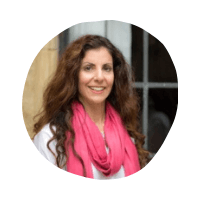 Michele
Owner
A shared love of gardening and artfully crafting beautiful landscapes is what led Michele Oskanian and her husband Fred to start Terra back in 2003. With an MBA from St. Josephs (Go Hawks!), she's the in-house accountant, number-cruncher, and Jill of All Trades. When she's not running the business, she enjoys tennis, skiing, and attending her 3 sons' extracurricular activities.
micheleboccelli@terra-lawn-care.com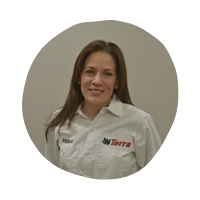 Melissa
Fertilization and Weed Control Expert, Turf Care Specialist
Melissa has been with Terra for over 5 years now. She began mowing lawns and has received more complimentary letters from our customers than any other employee. She worked her way through the company and in 2015 earned her PA license for lawn fertilization and weed control. Melissa strives to provide quality turf care and excellent customer service so every customer has a green weed-free lawn. Melissa is a single mother of two high school daughters. In her spare time, she enjoys reading and vacationing with her two daughters.
melissa@terra-lawn-care.com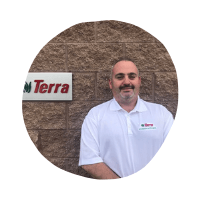 Scott
Lawn Care, Pest Control, Organics Specialist
In 1994, Scott graduated from Delaware Valley University with a degree in Agronomy and Turf Management. Scott has had 20+ years of experience in commercial and residential landscape management! For 25 years, he has been a certified pesticide applicator in Lawn and Turf, Ornamental Horticulture, Aquatics, and Mosquito, Flea and Tick. Scott enjoys gathering any and all information pertaining to his profession by attending research trials at the university level, and networking with other professionals.<br /> When not working, Scott spends quality time with his family and friends, especially his three daughters and son- twins Courtney and Karly, and Brianna and Tyler.
scottg@terra-lawn-care.com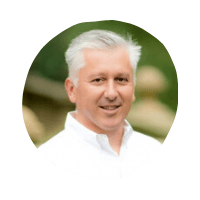 Fred
General Manager
A local guy who graduated from Albright College with a degree in economics, Fred Oskanian realized his true passion was for working outside (rather than behind a desk). Fred is the proud father of three amazing boys. He's big into tennis, skiing, and generally just enjoying the great outdoors. Fred got into landscaping because he loves the creativity afforded to him in helping homeowners beautify their homes.
fredo@terra-lawn-care.com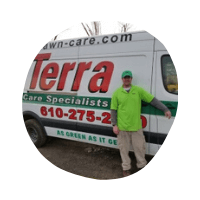 Bryan
Turf Care Specialist
Bryan enjoys all aspects of outdoors including kayaking, fishing, and hiking. He is very knowledgeable about plants and enjoys sharing that information. Bryan enjoys working with people and is easy to talk to. Bryan loves all pets and has a German Sheppard which he takes on hikes as often as possible. He recently purchased his first home so his spare time is spent doing many projects around the house.
bryan@terra-lawn-care.com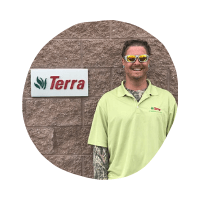 Matt
Lawn Care Specialist
Matt graduated from West Chester University in 2005 with a B.S in Professional Studies. Matt has been working as a Lawn Tech for 15 years now. He has 2 sons Gavin and Jordan, ages 18 and 9. Matt enjoys spending time with them fishing, riding bikes and going to sporting events. Matt is a true animal lover. He has 2 Pitbulls, Finnigan and Buster as well as 3 snakes - a Gopher Snake named Nesta, a Ball Python named Godzilla and an Albino Milk Snake named Simba. To round out his animal family, Matt has a Bearded Dragon named Medusa.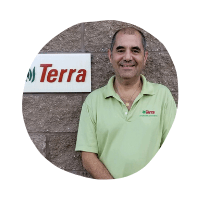 Joe
Operations Manager
As Terra's Operations Manager, Joe Zinni gets things done and done right. He schedules and routes every crew and accommodates customer requests, no matter how simple or special (Need a special cut day? Joe's on it!). A master carpenter, Joe has over 30 years of experience in the construction industry — he brings that expertise and precision to all of Terra's hardscaping and construction projects.
joezinni@terra-lawn-care.com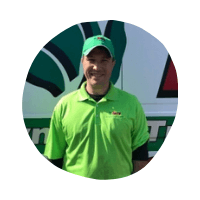 Dana
Turf Care Specialist
Dana is a graduate of Albright College and has been a PA state certified lawn care applicator for 10+ years. Dana enjoys spending much of his spare time with his wife and 3 kids and volunteering his time with his local church.
dana@terra-lawn-care.com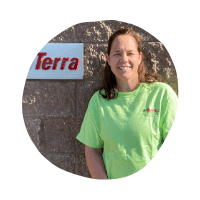 Kristin
Administrative Office
kristinr@terra-lawn-care.com