[fullwidth background_color="" background_image="" background_parallax="none" enable_mobile="no" parallax_speed="0.3″ background_repeat="no-repeat" background_position="left top" video_url="" video_aspect_ratio="16:9″ video_webm="" video_mp4="" video_ogv="" video_preview_image="" overlay_color="" overlay_opacity="0.5″ video_mute="yes" video_loop="yes" fade="no" border_size="0px" border_color="" border_style="" padding_top="20″ padding_bottom="20″ padding_left="" padding_right="" hundred_percent="no" equal_height_columns="no" hide_on_mobile="no" menu_anchor="" class="" id=""][one_half last="no" spacing="yes" center_content="no" hide_on_mobile="no" background_color="" background_image="" background_repeat="no-repeat" background_position="left top" hover_type="none" link="" border_position="all" border_size="0px" border_color="" border_style="" padding="" margin_top="" margin_bottom="" animation_type="" animation_direction="" animation_speed="0.1″ animation_offset="" class="" id=""][fusion_text]
Welcome to Terra
[/fusion_text][fusion_text]Locally owned and family operated, Terra has been providing our customers with the nicest lawns, on the block since 2003. We're dedicated to providing outstanding
lawn care maintenance
, high quality
tree care
, superior
landscaping
and the most effective
pest control services
in the Tri-State area. Do you want the nicest lawn on the block?  
Contact Terra today
. 
Overseen by an in-house agronomist with 15 years of golf course experience, Terra's team has over 50 years of combined experience in lawn care and plant health. All of our work is exclusively done by Terra employees (individually state-certified [PA, NJ, DE]  lawn care technicians, licensed landscaping professionals and graduates of Agronomy) — we leave the sub-contractors to our competition!
Your needs come first. We work directly with homeowners to help you realize your home improvement dreams and make them come true! Our personal dedication shows, too — we retain more customers year-over-year than the industry average (our retention rate  is 95%; industry average is 70%). We work hard to meet and exceed every customer's needs.
No job is too large or too small. We work with residential and commercial clients and are committed to building strong customer relationships through honesty, integrity and our guarantee that the job will be done the right way.
For the best results, hire the best in the business. Contact Terra Today.[/fusion_text][/one_half][one_half last="yes" spacing="yes" center_content="no" hide_on_mobile="no" background_color="" background_image="" background_repeat="no-repeat" background_position="left top" hover_type="none" link="" border_position="all" border_size="0px" border_color="" border_style="" padding="" margin_top="" margin_bottom="" animation_type="" animation_direction="" animation_speed="0.1″ animation_offset="" class="" id=""][fusion_text]
Why Terra?
[/fusion_text][fusion_text]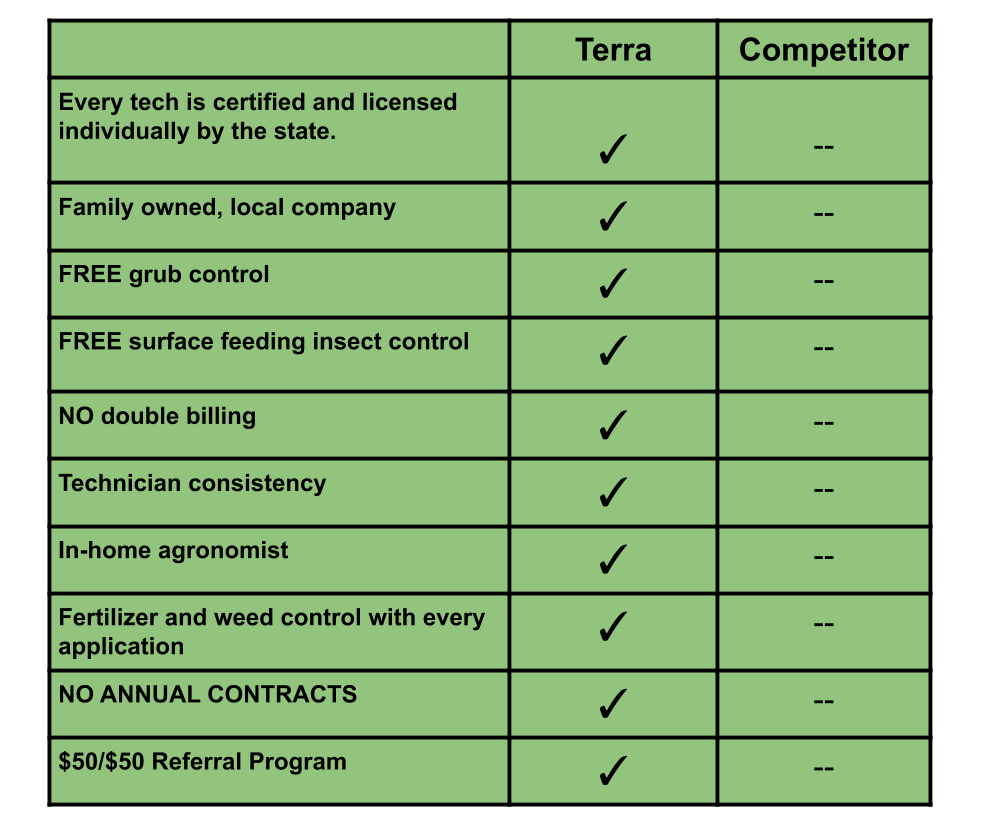 [/fusion_text][separator style_type="none" top_margin="10px" bottom_margin="" sep_color="" border_size="" icon="" icon_circle="" icon_circle_color="" width="" alignment="center" class="" id=""][fusionslider name="about-us" class="" id=""][/fusionslider][fusion_widget_area name="avada-custom-sidebar-terrarightcontacthalfscreen" background_color="" padding="" class="" id=""][/fusion_widget_area][/one_half][/fullwidth]