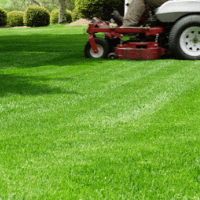 If you're seeking an experience, professional lawn care company with a personal dedication to each and every customer, you've come to the right place.
At Terra Lawn Care Specialists, our trained horticulturalists, skilled technicians, and experienced maintenance staff provide affordable lawn care services tailored to the needs of your lawn, ensuring it stays healthy and looking spectacular.
We are committed to providing our clients with the best quality lawn care in the Tri-State area.  Our guarantee to you is that our high-quality staff will get the job right the first time using the best products available.
Key Benefits of Lawn Care Services
Value
Appraisers estimate that a well-landscaped and maintained lawn adds 7% to the value of residential property.
Air Quality
A 50′ by 50′ well maintained grass area will create enought oxygen to meet the needs of a family of four every day.
Water Quality
Lawns return the moisture to the watertable where it can again be used by everyone.
Soil Quality
A healthy lawn prevents erosion by water or wind and the loss of valuable topsoilless mud and dust in the house.
Aesthetics
A beautiful lawn is immediately pleasing to the eye and relaxing in its appearance.
Interested in our Lawn Care?