Terra Lawn Care Specialists have recently invested in ECO 250 Top Dresser lawn applicators which will keep the company ahead of the game as one of the best landscape services in the area. A total of ten top dressers have been purchased to equip ten trucks traveling throughout the area, enhancing Terra's top dressing capabilities for residential customers.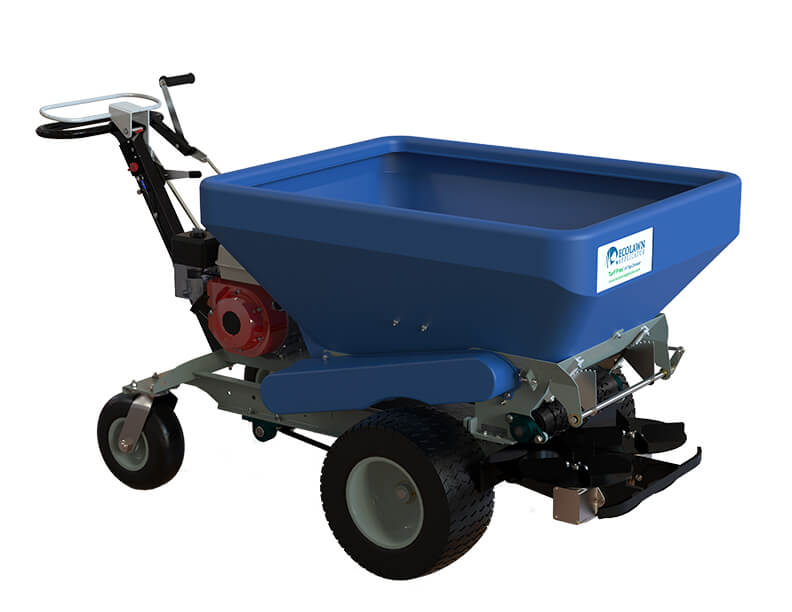 In the past, topdressing has been traditionally used on golf courses. Now that its popularity has spread to residential lawns, the compact size of the ECO 250 top dresser unit will create beautiful lawns for our clients with a much simpler but more advanced process.
This ECO 250 Top Dresser's design was based on company experience as well as input from lawn care professionals and suggestions from customers. The spreader integrates features which are found in much larger top dressers into its own more compact design, which offers high quality gear for smaller residential size lawns.
The ECO 250 brings the element of top dressing to a new level with its steady material flow for even spreading. This walk-behind, self-propelled broadcast spreader features controls and levers with an ergonomic design. It also has a newly designed hopper which is intended to eliminate material bridging.
The ECO 250 has the ability to spread kiln dried compost over properties as a more organic approach to feeding the soil rather than overloading the turf with synthetic fertilizers. It will break down clumps to create an evenly spread lawn. The entire process will thicken the lawn, inhibiting weed growth. The ECO 250 Top Dresser will also allow turf to come out of dormancy faster and healthier. The turf will maintain its emerald green color for a longer part of the year.
The ECO 250 has a maneuverable four-wheel design providing better weight distribution and stability. The ease of operation makes handling heavier products achievable. The top dresser's wider base frame improves stability. It has a wide conveyor system for increased surface contact. An extra differential support bracket has been added making the top dresser more capable of handling greater weight. Ease of use and comfort by repositioning all levers and handles are an important part of the design. Four tie-down points have also been integrated into the design along with a quick adjustment agitator belt tensioner system which makes it easy to adapt on the go. The frame is larger and gives the hopper a wider live bottom which works together with its steep smooth sides and large rounded corners and edges to eliminate bridging. The top dresser delivers a uniform pattern with even the heaviest materials like sand.
What is topdressing?
Top dressing is an application of soil, compost and sand over a lawn's surface. Applying a thin layer of material improves the quality of the soil and creates healthy conditions for growing and maintaining luxurious green grass. At Terra, we use organic materials over chemical lawn care to improve the soil biology and prevent disease suppression.
Why is top dressing an important part of lawn care?
Top dressing relieves soil compaction, changes soil structure, increases soil flora, reduces thatch buildup, reduces lawn diseases, decreases the need for fertilizer, improves drainage, evens out terrain and increases nutrient absorption.
How to top dress a lawn?
First, the lawn must be mowed. Next, top dressing material must be applied. The ECO 250 top dresser will provide and even coat across the entire lawn. By doing it yourself, too much material might be applied which can smother your lawn. Terra Lawn Care Experts will produce the best outcome for your lawn and top dress it with a unique mixture of organic ingredients.
When is the best time to apply top dressing?
The best time to apply top dressing is in the Fall for cool-season grasses and in the Spring for the warm season grasses. This will be simple with the help of Terra specialist using the self propelled ECO 250 top dresser. The experts will help you combine the top dressing with your other lawn needs for each season. The result is rich green grass and a lawn to be proud of.
Working with a qualified landscaping company is a smart investment in your property. Terra always keeps moving forward with the newest innovations in the business. Our goal is to exceed our clients expectations. By keeping up with state of the art equipment like the ECO 250 Top Dresser and by providing our customers with their individual needs, we ensure that your lawn will be the envy of the neighborhood.